Welcome to BeeOne
The Operator specialised in Prepaid Telecom Services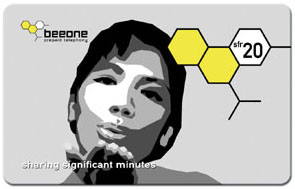 This is the first generation of BeeOne's internet site, where service and information to the customers, as well as special offers occupy a privileged place. In these pages, our ambition is not limited to present our activities to you, we want to set up an on-line information system, which introduces our offer, our advices of use and our distribution partners a detailed way. Here you can consult our price lists, the addresses of the points of sale closest to you the last news concerning the Swiss Market Place for Prepaid Cards.
We whish this space to become a platform for a dialogue between you and BeeOne. You are therefore invited to send us your comments, questions and greetings: contact.
Thank you for visiting our site.
Points of Sale: